Hand selected jewelry, clothing, toys and a whole lot more. We have got it all.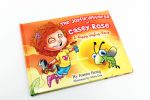 The first book in the "The Joyful Universe of Casey Rose and the Joybug" series is here. Books 2 - 5 of the series are coming soon. HAPPY reading!

Here are some programs to help you fill your JOY tank.